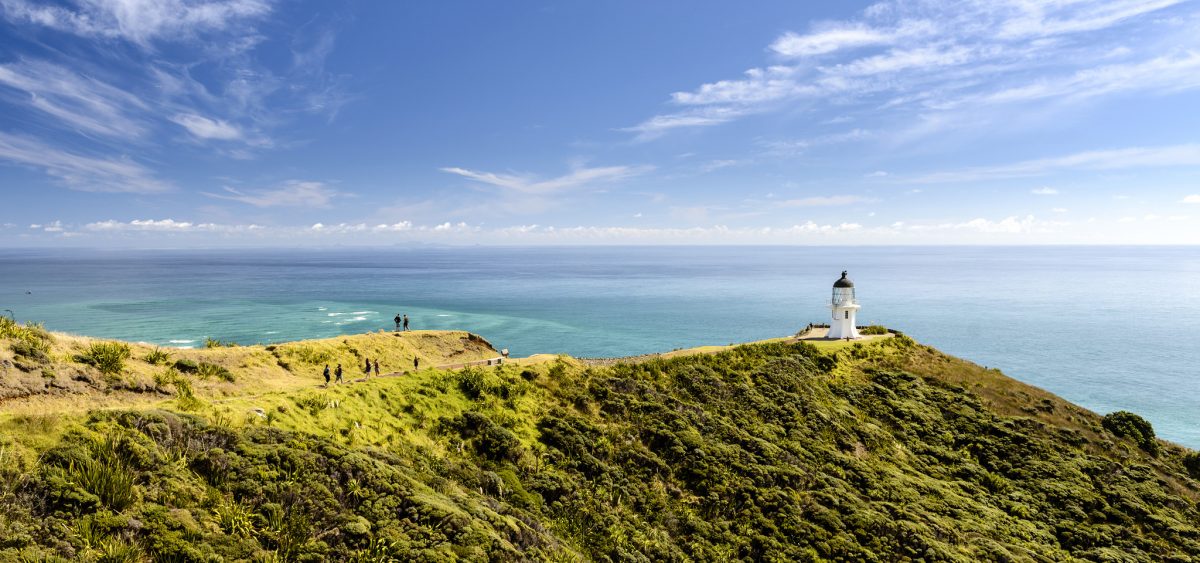 Breathtakingly beautiful Cape Reinga (or Te Rerenga Wairua in Maori) is the northernmost tip of New Zealand, sitting on the Aupouri Peninsula at the top of the North Island. Cape Reinga is located over 100 km north of the nearest small town of Kaitaia. Day tours to Cape Reinga depart daily from the Bay of Islands.
The name of the cape comes from the Maori word 'Reinga', meaning the 'Underworld'. Another Maori name is 'Te Rerenga Wairua', meaning the leaping-off place of spirits. Both refer to the Maori belief that the cape is the point where the spirits of the dead depart for the underworld.
Getting to Cape Reinga: Day Tour via Ninety Mile Beach
You can book a Cape Reinga day tour from Paihia or Kerikeri in the Bay of Islands region. (Paihia is a short bus trip from Auckland, so if you're wanting to travel Auckland to Cape Reinga you'll need to travel to the Bay of Islands the day before your tour.)
Along the way you'll stop at the Puketi Kauri Forest for a short boardwalk stroll amongst 1,000 year-old kauri trees, and pass by golden sand beaches at Whangaroa, Coopers Beach, Cable Bay and Taipa.
At Cape Reinga, you'll see the place where the Tasman Sea and mighty Pacific Ocean crash together as you walk down a path towards the Cape Reinga Lighthouse. Far below, a native pohutukawa tree marks the place where Maori believe spirits leave the land and swim north towards the underworld.
Another highlight of the Cape Reinga day tour is driving through quicksand along Te Paki Stream (the legendary coach drivers navigate this area very carefully!) and stopping for a spot of sandboarding – tobogganing on boogie boards down the giant Te Paki sand dunes.
You'll also travel by coach along the famous Ninety Mile Beach – a long, lonely, windswept beach which is also a legal highway! (Here's another reason to visit Cape Reinga by bus: you can't do this in a rental car because it won't be covered by your insurance.) The tide on Ninety Mile Beach will determine whether your coach travels north or south along the beach.
Cape Reinga day tours depart daily from Paihia and Kerikeri all year round. It's a full day trip, leaving around 7.30am and returning at 6.30pm.
Cape Reinga day tour facts
Hotel pick-ups
The tour will pick you up from your accommodation for free – you just need to let them know where you're staying when you book. Accommodation pickups start at 7.15am and the coach departs Paihia at 7.30am. (Please note that if you're booking this tour on an InterCity FlexiPass, hotel pick-ups are not available).
Coaches
Specifically built for travelling on the sands of 90 Mile Beach, the coaches are air conditioned for your personal comfort.
Refreshments
Refreshment stops are made for morning tea, lunch and afternoon tea (not included). You can bring your own lunch or buy it at the morning tea stop.
Commentary
Your driver guide will give you a full (and very entertaining!) commentary in English via the on-board sound system. Printed guide sheets are available in English, German, Japanese and Mandarin.
What to bring
Hat, sunscreen and sunglasses, camera, a towel if you're planning to swim and a change of clothes for sandboarding.