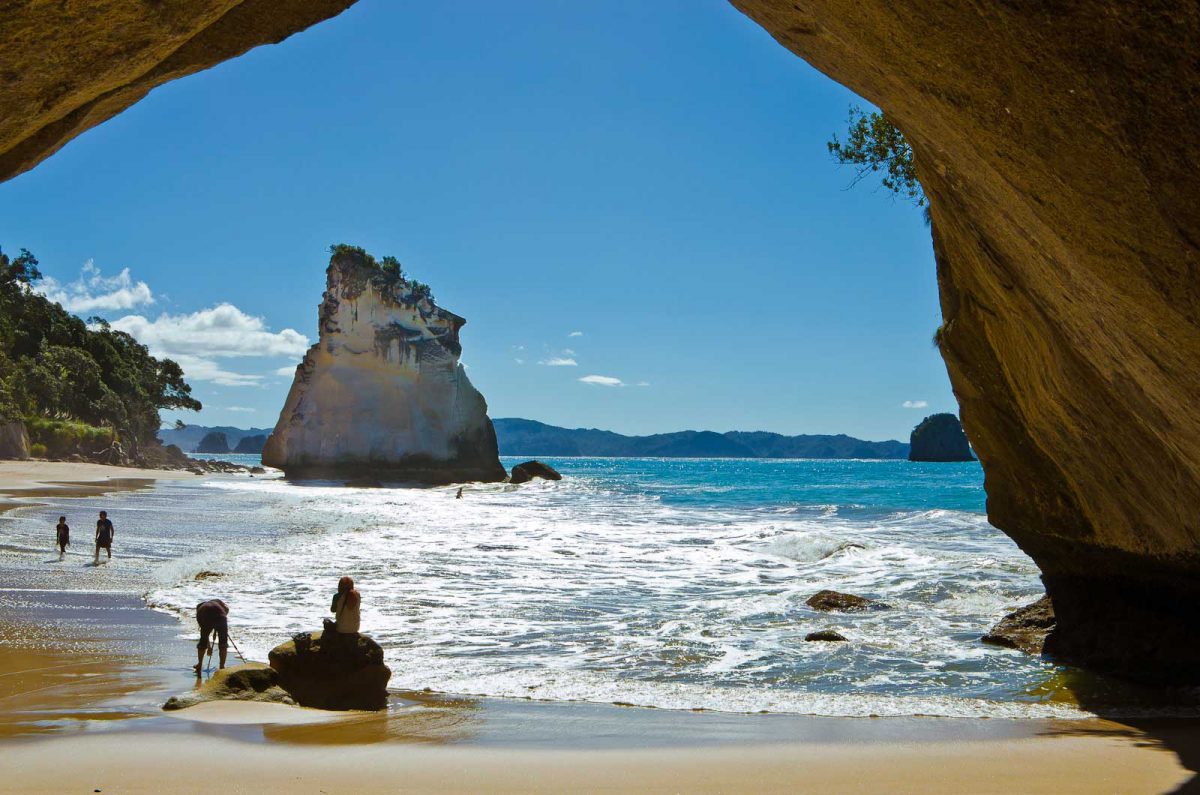 On the North Island's east coast, just south of Auckland, lies the scenic Coromandel Peninsula. Kiwis call it 'The Coromandel' and it is a favourite holiday destination due to its unspoilt landscape and relaxed lifestyle.
Framed by native pohutukawa trees on the western side, beautiful white sandy beaches on the east and divided by ranges cloaked in native rainforest, the Coromandel's 400km of coastline offers the visitor a truly distinctive blend of experiences.
The Coromandel is a walker's paradise with a range of trails to explore, from short coastal walkways to multi-day treks. Go for a swim, take a boat trip, sea kayak or snorkel in our marine reserves. On land, enjoy delicious local produce, drop in to an artist's studio or visit a museum to discover the region's heritage. There's a reason they say the Coromandel is good for your soul…
Coromandel attractions
Cathedral Cove
Made famous by the 'Chronicles of Narnia' movies, this beautiful beach is divided by a stunning rock arch. It is situated between Whitianga and Hahei and access is by boat or on foot. The walk is worth it for the stunning view when you arrive – have your camera ready!.
Handy tip: access to the 'cathedral' is sometimes limited by rockfalls – pay attention to any warning signs you see.
Hot Water Beach
Hot Water Beach on the Coromandel's east coast is a unique New Zealand experience. At first glance the beach looks like any other New Zealand surf beach. Follow the crowds with their spades to a spot under the headland, and you're in for a surprise. Here, natural hot springs bubble up under the sand. Dig yourself a shallow hole to create your own personal spa pool, right on the beach!
The water can be seriously hot, so you'll want to get the mix of hot and sea water just right. The best time to visit Hot Water Beach is within two hours either side of high tide, so check a Coromandel tide chart before you head to the beach. You'll need a spade to dig your pool. Some Coromandel accommodation providers will lend you one, but you can also hire them from the nearby store.
Coromandel Town
About halfway up the peninsula is the historic town of Coromandel, once the booming hub for the region's goldmining industry. Today it's better known for its arts and crafts scene, the surrounding native rainforest and the local Driving Creek Railway.
Whitianga Scallop Festival
Scallops rank up there as one of New Zealanders' favourite seafoods. Unsurprisingly, the annual Whitianga Scallop Festival is one of New Zealand's most popular festivals! Local farmers, cafes and restaurants serve authentic New Zealand cuisine, with entertainment and live music. The scallop festival takes place on Whitianga's stunning waterfront every August.
Find out more about the Whitianga scallop festival
Getting there:
The roads around the Coromandel Peninsula are narrow and winding. They can therefore be dangerous for travellers who are not used to New Zealand driving conditions. InterCity runs daily buses to the Coromandel from Auckland, Hamilton and Tauranga. You can catch a bus to the Coromandel from the main Auckland bus stop in the city centre, or from Manukau.
Handy tip: If you're travelling to the Coromandel with an InterCity FlexiPass, make sure you check the network map as some Coromandel bus services are not available.