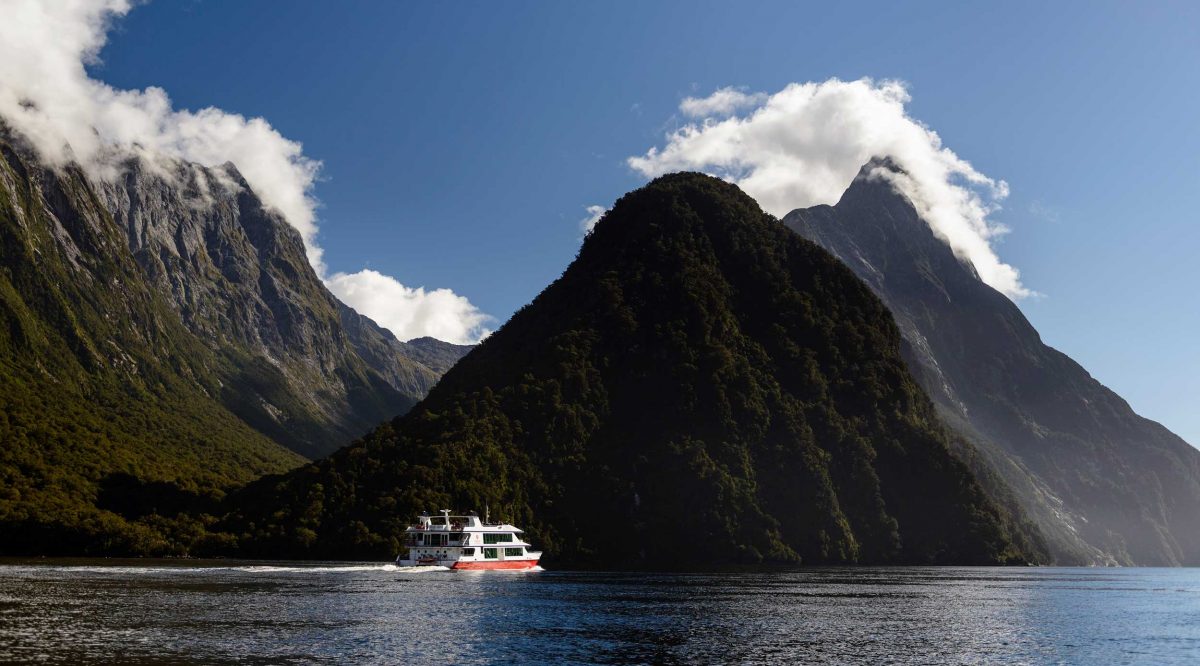 Milford Sound is literally unmissable. We're serious – if you come to New Zealand you MUST visit Milford Sound. This spectacular natural attraction is hidden away on the remote West Coast of the South Island, deep within Fiordland National Park. Yet despite this, it's New Zealand's most visited destination and frequently tops lists of the world's most beautiful places. Once you see the dramatic beauty of Milford Sound, with its sheer cliffs, deep waters and mountain peaks, you'll understand why it's on everyone's New Zealand bucket list.
Don't be fooled by the name, either. Milford Sound isn't actually a sound at all – it's technically a fiord, carved out by glaciers thousands of years ago. You can see evidence of the slow march of the glaciers over time, carved into the rock cliffs that rise out of the water and tower overhead.
Milford Sound day tours
The best way to visit Milford Sound is on a day tour from Queenstown or Te Anau. It's a full day tour and you'll be spending a good portion of it on the road. Your tour driver will make frequent stops along the way so you can stretch your legs and take advantage of the many photo opportunities. That's the best part about a Milford Sound tour – not only is the destination almost unbelievably lovely, the journey there is just as spellbinding!
At the start of your tour you'll drive past huge mountains, through quintessential Kiwi farmland and into Fiordland National Park. This is where it gets seriously scenic. You'll see peaceful Lake Te Anau and the perfect reflections at the Mirror Lakes. Next you'll travel through the impressive Eglinton Valley, before stopping at Monkey Creek to sample the pristine alpine spring water. Pass through the Homer Tunnel, carved by hand through solid rock, and check out the insanely powerful waterfalls at The Chasm. (Those really have to be seen – and heard – to be believed!)
Finally you'll arrive at Milford Sound for a cruise along the fiord (included in your tour). See gushing waterfalls, sheer rock cliffs, and photogenic Mitre Peak rising 1,692 metres high. Seals bask in the sun at the base of the cliffs, native rainforest clings to the slopes, and dolphins are frequent visitors.
At the end of your cruise, it's time for the return journey home. You'll arrive back in Queenstown or Te Anau with a mind filled with the amazing sights of the day.
This slideshow requires JavaScript.
Getting to Milford Sound
There are several companies that offer Milford Sound tours, including InterCity, awesomeNZ, GreatSights and Gray Line. If you choose to drive to Milford Sound, you need to prepare carefully, especially in winter. Check that the road is open, have snow chains for your vehicle if needed, make sure you have enough fuel for your car and for yourself! Once you enter Fiordland National Park there are no shops or gas stations.
Find out more about getting to Milford Sound.