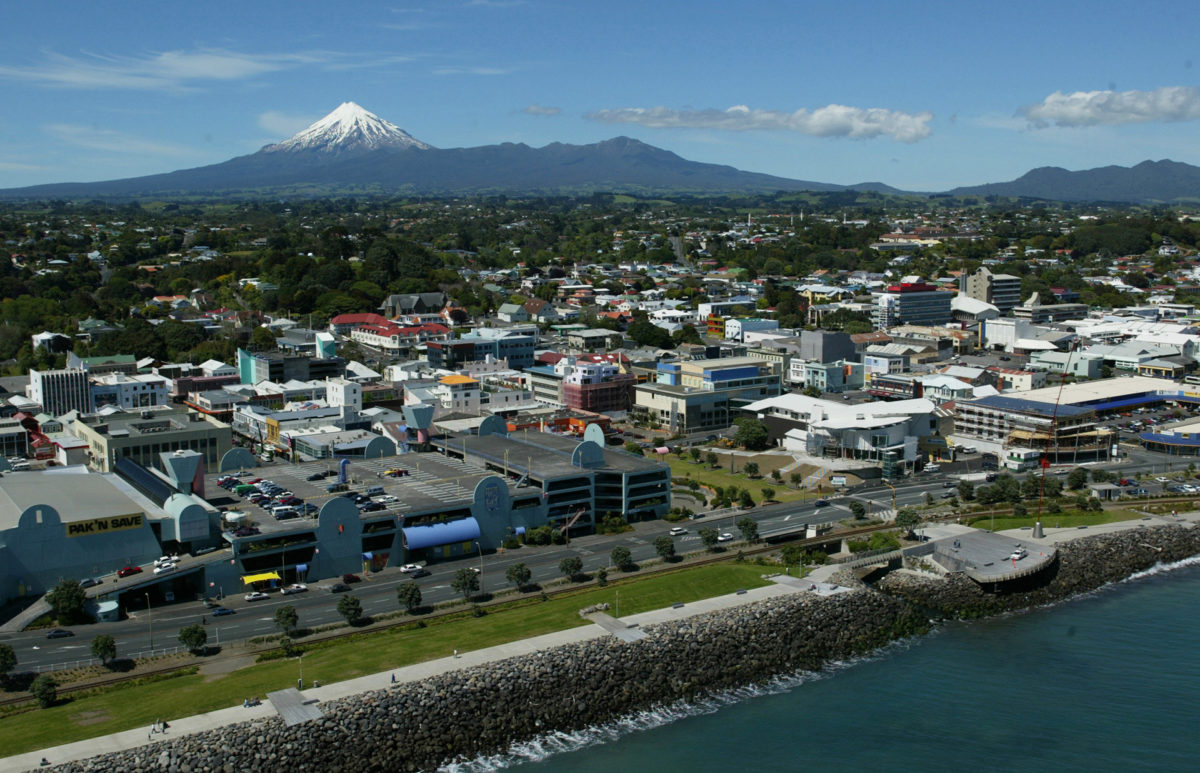 The city of New Plymouth is known for its sunny climate, art galleries and beautiful parks. It is also New Zealand's 'oil town', with offshore rigs extracting natural gas and oil.
Mount Taranaki, the second largest mountain in the North Island, provides a dramatic backdrop to the city, while impressive surf beaches skirt its shore. There aren't many places where you can go surfing and skiing in one day!
Māori first populated the area in the early 14th century, and early European settlers began making their home in New Plymouth from 1828.
Things to do in New Plymouth
Mount Taranaki and surrounding Egmont National Park provide a host of outdoor activities in New Plymouth. Go skiing or snowboarding on the mountain, or enjoy a range of hiking trails for all abilities.
Down at the New Plymouth waterfront you'll find Puke Ariki, a wonderful museum and heritage centre. The Govett Brewster art gallery holds an impressive collection of contemporary and New Zealand art. Next door, the recently-opened Len Lye Centre holds the archives and studio collection of this New Zealand-born, internationally famous sculptor and film artist.
New Plymouth is famous for being NZ's most cycle-friendly town. One of the best places to cycle is the New Plymouth Coastal Walkway. This is a 13-kilometre coastal track perfect for walking, jogging or cycling. Highlights of the walkway include the beautiful Te Rewa Rewa bridge and the Wind Wand (one of Len Lye's sculptures).
At any time of the year, Pukekura Park is a place to relax and enjoy nature. During the annual Festival of Lights, the park is transformed by beautiful light displays. The WOMAD New Zealand festival is held in New Plymouth too, with performers from around the world.
At the western end of the city, near the port, Paritutu Rock stands sentinel over the Sugar Loaf islands. Climbing Paritutu Rock gives you amazing views over the city and the islands, which are home to amazing sealife. It's a short but steep track – worth the effort!
If you're a keen surfer, you'll love surfing in New Plymouth. Fitzroy Beach, Back Beach and Bell Block Beach are all close to the city. and travel south along 'Surf Highway 45' for more reefs and breaks.
Getting to New Plymouth
InterCity operates daily services to New Plymouth from Auckland, Hamilton and Wellington. Buses to New Plymouth start from just $1 plus booking fee so you'll have plenty left over to hire a wetsuit and surfboard!
Image: Rob Tucker, New Plymouth City