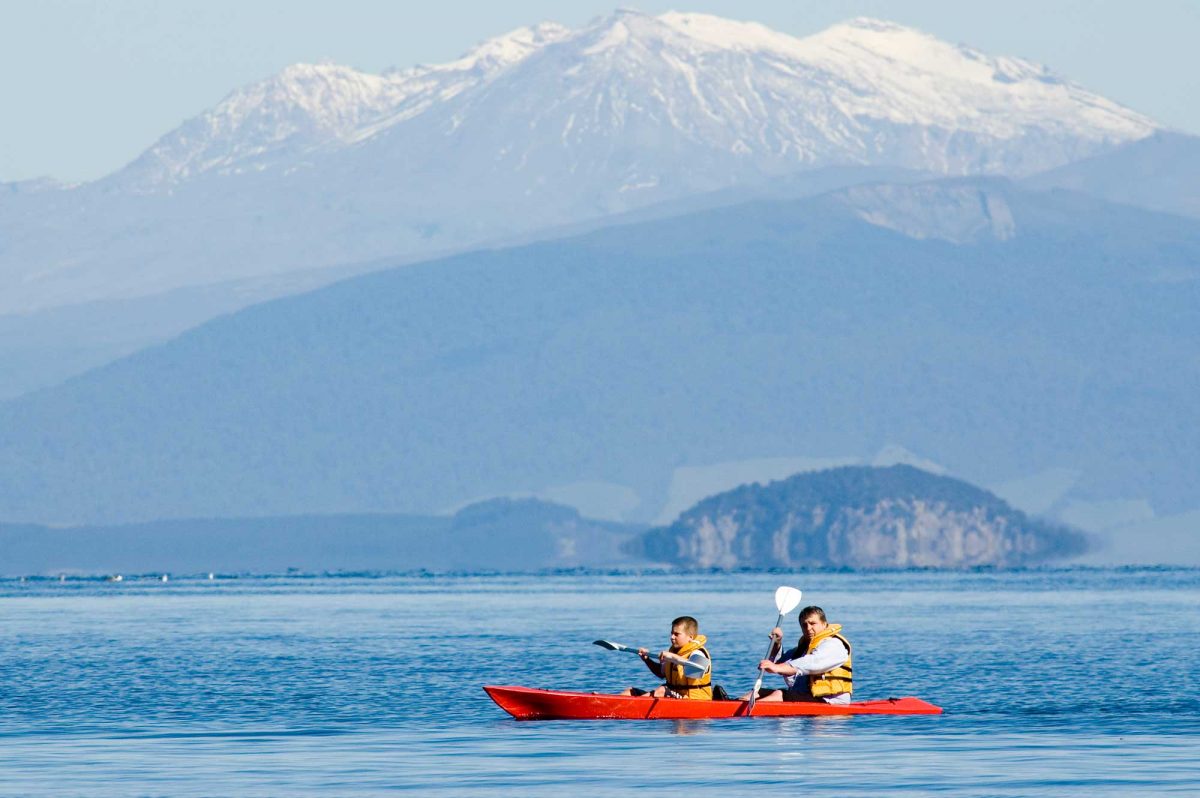 The powerful beauty of the volcanic landscape provides a dramatic backdrop to the Taupo region. Highlights include Turangi (the world's trout fishing capital), Tongariro National Park and of course Lake Taupo itself. The town of Taupo is located at the north-east corner of the lake. From the town of Taupo you can enjoy panoramic views over the water to the volcanic mountains of Tongariro National Park to the south.
New Zealand's largest lake at 619km2, Lake Taupo was created by a volcanic eruption so big the sun went hazy in China. But don't worry, that was a few thousand years ago! While the volcano is long dormant, there's still plenty happening under the earth. Just a few minutes north of the lake at Wairakei you'll find geothermal fields, boiling mud pools and steaming geysers.
Things to do in Taupo
There are so many things to do in Taupo, from skydiving, jet boating and paragliding to fishing, hiking or simply relaxing by the lake. Whether you're visiting in summer or winter, you'll find ways to keep busy.
Trout fishing is a major attraction in Taupo. Keen anglers released the first trout fry into the lake over 100 years ago, and today it is one of the last true wild trout fisheries in the world.
Skiing and adventure activities are other reasons to visit Taupo. It's a convenient base for ski trips to Mount Ruapehu and the Whakapapa and Turoa skifields. And when it's time for a break, Taupo's town centre is crammed with cafes and interesting shops.
The nearby Huka Falls area is great for a picnic, or you could take a thrilling jet boat ride right to the foot of the thundering water. Nearby is the world's only geothermally heated prawn farm – make sure you try the prawn burger!
Tongariro National Park, New Zealand's first national park and a World Heritage area, is just south of Lake Taupo. The park contains three magnificent volcanoes: Ruapehu, Tongariro and Ngauruhoe (famous as Mt Doom from the Lord of the Rings movies!). The Ngati Tuwharetoa tribe gifted these mountains to New Zealand in 1887. A day hike on the Tongariro Alpine Crossing is a popular backpacker experience, or the multi-day Tongariro Northern Crossing (one of NZ's nine Great Walks).
In Taupo and the village of Tokaanu near Turangi, hot mineral springs have been soothing weary souls for centuries. They're perfect for soaking away those aches and pains after a long day on the slopes or hiking! Orakei Korako geothermal area is also worth a visit to see mud pools, geysers and impressive terraces.
See more things to do in Taupo.
Getting to Taupo
InterCity's bus network connects Taupo to towns and cities around the North Island. You can catch the bus to Taupo from Auckland, Hamilton, Rotorua, Wellington or many other stops. Buses to Taupo start from $1 plus booking fee.