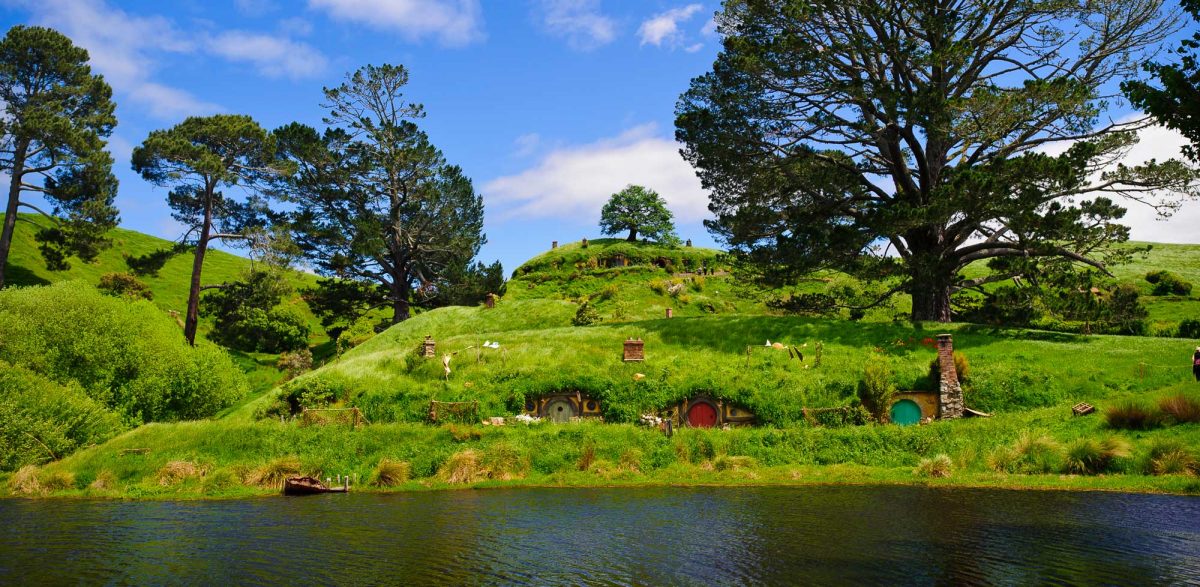 Ever since the release of the award-winning The Lord of the Rings movie trilogies, the Hobbiton Movie Set here in rural New Zealand has become world famous! Visitors from all over the world flock to the working farm where Sir Peter Jackson and his team brought Tolkien's Middle-earth words to life.
Hobbiton is located just outside the town of Matamata in the Waikato region of the North Island. You can visit Hobbiton on a day tour from Auckland, Hamilton or Rotorua. These tours include entrance to the movie set and a guided tour.
Hobbiton Day Tours
InterCity Hobbiton day tours depart daily from Auckland, Hamilton and Rotorua and travel to Matamata. After a short break there, you'll change buses and travel a short distance out of town to the working farm where the movie set was built.
During your guided tour you'll see all the famous locations from the Lord of the Rings and Hobbit movies. See the Party Tree, the Mill, the Green Dragon, Sam's house – and of course Bilbo and Frodo's house at Bag End. Your guide will fill you in on some secrets from the making of the films, and there will be plenty of time to take photos and get a close look at the amazing details that made them such a success.
At the end of the tour you can enjoy a complimentary beer, cider or ginger beer at the Green Dragon Inn. These were specially brewed for the films and can only be found here. You'll also have a chance to browse the fun range of souvenirs and collector's items available at the Shire's Rest before returning to Matamata. Hobbiton tours last approximately three hours, including transfer to and from the location.
You can book a Hobbiton day tour on your FlexiPass – the hours of bus travel are deducted from your pass, and you just add on entrance to the set when booking. Some TravelPasses even include this day tour with no extra to pay!
There's also a Hobbiton and Waitomo Caves day tour option, meaning you can enjoy two of NZ's most famous attractions in one day.
Getting to Hobbiton
If you want to visit Hobbiton without booking a whole day tour, you can travel to Matamata on InterCity's regular daily bus services from Auckland, Hamilton, Tauranga or Rotorua, and book your tour separately. Bus tickets to Matamata start from just $1 plus booking fee.