If you're travelling around New Zealand with someone special, you'll want to know which are the most romantic places to visit. As a subtropical paradise with beaches, islands and frolicking dolphins, the Bay of Islands should be at the top of your list. Here are our top 10 Bay of Islands couples activities.
1. Spend the day on an island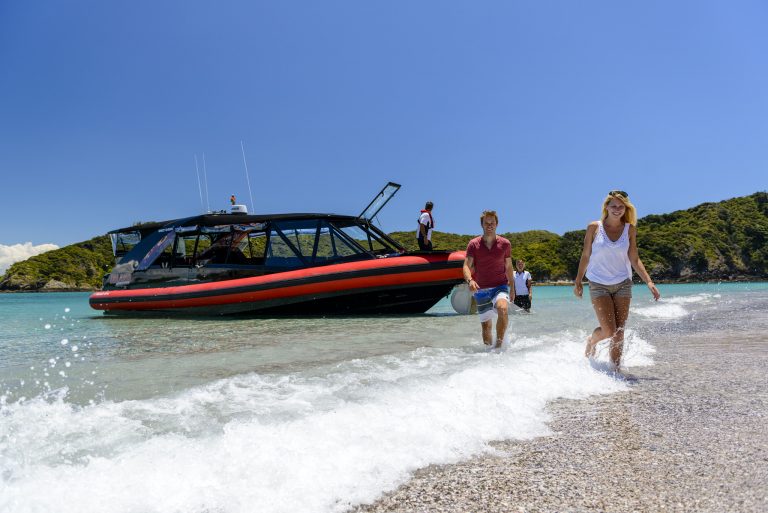 What could be better than cruising the Bay of Islands exploring its most secluded spots, and being 'marooned' there for the day? An Island Adventurer cruise combines thrilling scenery and island bliss – spend a few hours cruising around some of the Bay's most interesting spots, then step ashore on Urupukapuka Island. Take a picnic and spend the day strolling around in beautiful, peaceful surroundings. The two of you will feel like the only people in the world. Find out about Island Adventurer cruises
2. Tempt your tastebuds
The Bay of Islands offers a range of dining options. In Paihia, check out Charlotte's Kitchen or 35 Degrees/Alongside on the wharf for amazing food and great views. The Duke of Marlborough in Russell may have a ribald and somewhat chequered history as New Zealand's first licensed pub, but its fine dining menu is highly rated. It's also the perfect waterfront location to watch the sun set. Over in Kerikeri, Wharepuke and The Pear Tree offer gourmet cuisine amid scenic locations. Boutique vineyards dot the whole Bay of Islands region, offering tastings, lunch and dinner.
3. Go surfing
Northland and the Bay of Islands boast some of the country's most beautiful beaches, including many top surf spots. They range from safe lifeguard patrolled beaches to secluded offshore reefs that will get your adrenaline pumping. Surf tours and surf schools are also available. Check out Elliot's Bay, Matauri Bay, Sandy Bay, Rarawa Bay, Baylys Beach, Taupo Bay, Taputupoto Bay, Shipwreck Bay or Hobson's Bay.
4. Dive the wreck of the Rainbow Warrior
In 1985, French agents bombed Greenpeace ship the Rainbow Warrior to stop her protesting nuclear tests in Mururoa, killing one crew member. Two years later, Greenpeace gifted the wreck to the sea. The ship now lies as an artificial reef in the Cavalli Islands, a home for abundant marine life. If you're a keen scuba diver, this is one site you and your dive buddy must not miss! Local operators run daily dive trips to the site.
5. Play a round of golf
Northland has some of the New Zealand's most spectacular golf courses. Whether you are pros or just keen amateurs, courses like Waitangi, Kauri Cliffs or Carrington are sure to test your skills and amaze you with their stunning views. Challenge your partner to some healthy competition!
6. Walk to the Cape Brett Lighthouse
If you love hiking with your beloved, this walk is the one for you. Running along the ridge of the Cape Brett Peninsula, it requires a decent level of fitness and contains some tricky clifftop sections. Stay the night in what could be New Zealand's cheapest accommodation – the old lighthouse keeper's hut at the end of Cape Brett. You'll need to book in advance and pay a track fee. Find out more
7. Sail across the Bay as the sun sets
After a day spent exploring the Bay of Islands, step aboard the R. Tucker Thompson for a late afternoon harbour cruise. Sit back with a glass of wine and an antipasto platter, or have a go at climbing the rigging and enjoy the views from way up high on this authentic tall ship. Don't forget your camera!
8. Use your pedal power
See Northland at your own pace with a trip along the Twin Coast Cycle Trail, just outside the Bay of Islands. All the hard work's taken care of – you'll be picked up, fitted for a bike and helmet and dropped at the start of the trail, then collected at the other end. Just enjoy the serenity as you pedal along the trail, which runs along an old rail corridor and offers great views of the countryside. Find out more
9. Visit the Kawiti Glowworm Caves
Close to Kawakawa in the Bay of Islands is one of NZ's best kept secrets – the Kawiti Caves. These glowworm caves are not as famous as the Waitomo Caves but they're a great place to see glowworms, stalactites and stalagmites in a lush rainforest surrounding. Take a guided tour and steal a kiss from your special someone as you gaze at the twinkling lights around you.
10. Live in luxury
Accommodation in the Bay of Islands ranges from budget backpacking hostels right through to award-winning five-star resorts. If you're saving up for one night in the lap of luxury during your NZ travels, make it here! Pamper yourself with a stay at a top class lodge like the Eagle's Nest or Kauri Cliffs for a truly glamorous experience. Whether it's your honeymoon, anniversary or a 'just because' holiday, these luxury accommodation providers will take make your stay unforgettable.
Find out more about the Bay of Islands.